Find your own rainbow!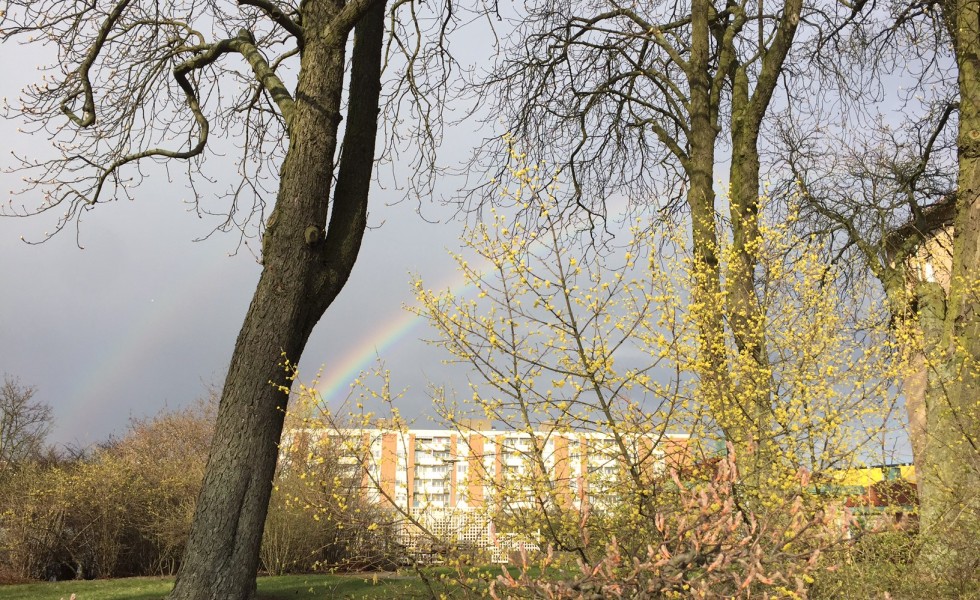 As I was walking to yoga class, it started drizzling. My first thought was a complaint, I hadn't even brought an umbrella and this was a 20-minute walk.
But as I always seek for the positive in all things, I took a deep breath and comforted myself mentally: "It's not really cold today, I'm wearing extra clothes over my yoga clothes so I'll barely get wet at all and my clothes will get dry during the class time. I'll be fine. Let's enjoy this sprinkle on my face!". Then (crazy spring weather!) the sun started shining through the rain. I immediately thought, prime chance to find a rainbow! And looked eagerly around, like a little girl with eyes of wonder. And there it was, a gorgeous double rainbow, through the wet trees and a blossoming bush. I had to stop to take a picture (a quick one, so my phone would not get wet).
And I thought, what a message. Had it not been for this annoying rain, I'd never had seen this beautiful rainbow. I'm also glad I made the effort to look around, rather than walking immersed in complaints for the rain or other matters. There is so much beauty out in nature, in any climate! Proper rainbows are a marvelous special gift, but there are many bigger or smaller wonders to enjoy, even on a rainy day – little sprinkles of beauty, things to make you smile and feel grateful.
No matter how your day is going, stop and look around for your rainbow!