Amazing raw food brownies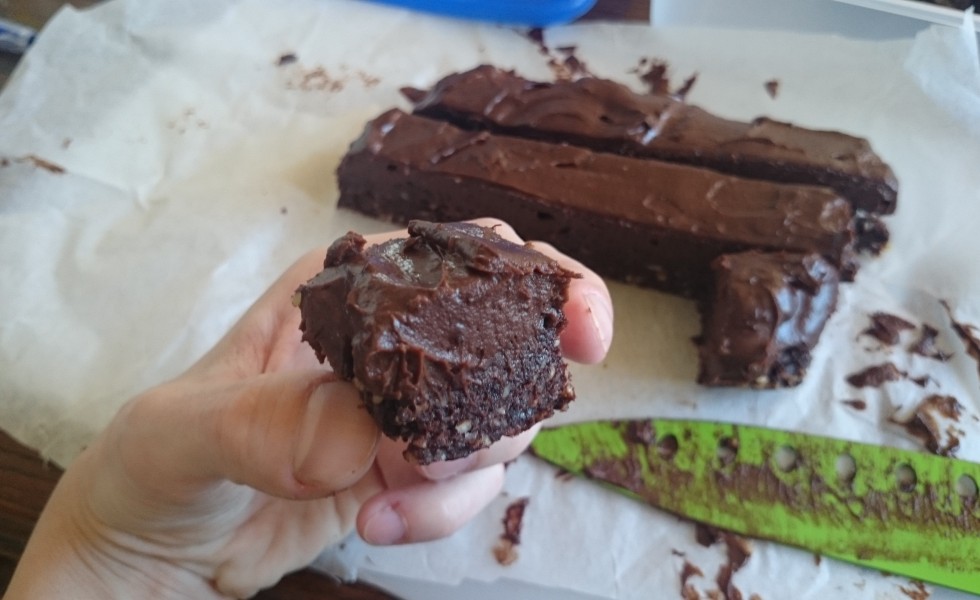 These brownies are likely the most delicious chocolate thing I have eaten. A brownie that leaves you satisfied, with just enough sweetness, topped with a silky and creamy chocolate frosting. They are also packed with healthy fats, protein and fiber. Gluten-free, dairy-free, raw-food. They are sweet, but without refined sugar – not apt for diabetics, but comparatively ok as a healthier form of treat.
When I read the original recipe (which I have varied), I felt a bit suspicious about putting avocado on the icing. But it really has no avocado flavor, which on the other hand grants it a wonderful creamyness. The coconut oil helps the cream harden with the cold. Pure raw cocoa has many therepeutic properties – you will probably find it easiest in a health food store or gourmet supermarket (note: I am not referring to sugary cocoa drink powder!).
Brownies (approx. 18 squares)
1 cup peeled nuts
1 cup pitted fresh dates
1/4 cup raw cocoa powder
1 tbsp peanut or almond butter
1 pinch salt
Approx. 1-2 tbsp water
1. Put the nuts in a food processor and mix a few seconds until it's finely chopped.
2. Add the rest of the ingredients. Careful about the salt, a tiny pinch is enough. Keep mixing until it's well blended.
3. The paste should be smooth and somewhat sticky (even if you can see the tiny bits of nuts). Add some water to adjust the consistency, I needed 2 tablespoons.
4. Spread and press out the paste in a mold (I used 2/3 of a bread tin, covered with baking paper). Put it into the freezer while you prepare the frosting.
Chocolate frosting
1 ripe avocado
Seeds of 1 vanilla pod or 1 teaspoon cinnamon powder
3 tbsp liquid honey
1 tbsp coconut oil
3 tbsp raw cocoa powder
1. Put all the ingredients in the blender and mix until smooth. Make sure you cannot see any avocado fragments.
Take out the tin from the freezer and extend the frosting on top. You may have leftovers, depending on the thickness of the layer. Put then the mold back in the freezer (or fridge if you will eat it soon) and let it harden. Later, take out the brownie from the mold, thanks to the paper it will be easy. Put it on a cutting board and cut cubes of the desired size. Keep in the fridge (or freezer) until eating time. If you froze it to eat it days later, keep in mind defrosting it some hours before, in the fridge.
If you're feeling adventurous you can try variations. I made them with cinnamon and used peanut butter with chili, so they had a sting.
Idea! The frosting can be eaten on its own as chocolate cream/mousse. In that case, put it in small cups and leave in the fridge to harden.