Swedish almond cupcakes, gluten- and dairy free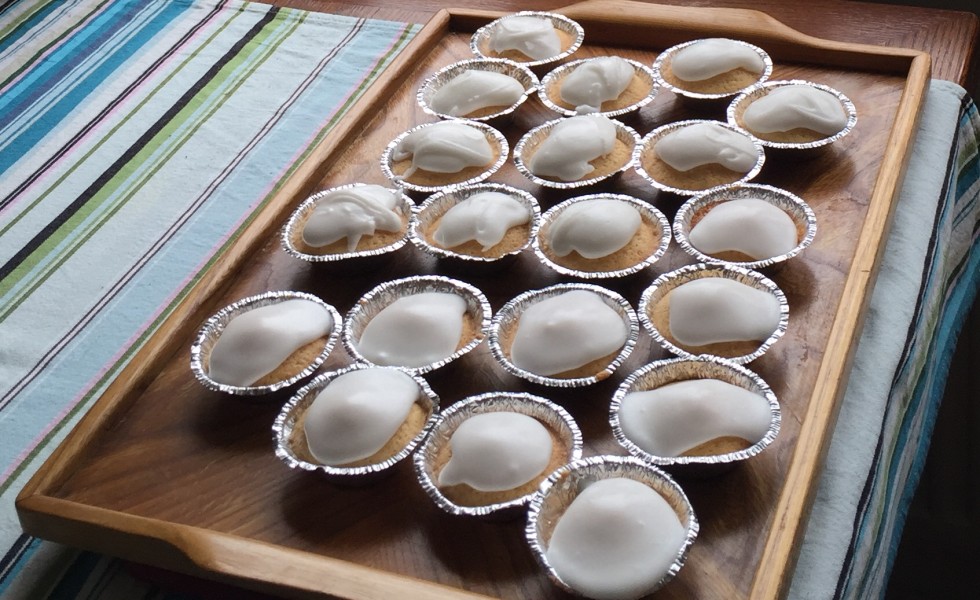 The original Swedish "mazariner" tarts are a time-consuming recipe since each individual mini-pie crust needs to be pressed in by hand and then filled and glazed. This version has approximately the same taste but is more like a cupcake, and thus much quicker to make. You just whip the ingredients together, fill the individual forms, bake, cool and apply icing.
My variation to the recipe is making it entirely wheat- and milk-free, and adding a peppermint touch to the icing.
Enjoy!
(ps. You can freeze them just fine, but in that case add the icing after you thaw them)
½ cup coconut oil
¾ cup sugar
2 ¼ cup almond flour (aprox 150 gr)
¼ cup potato or corn starch
¼ cup rice flour
3 eggs
1 tsp baking powder
1 pinch salt.
Whip the sugar and the oil. In a separate bowl, make all flours and powders. Whip the eggs, add the sugar with oil, and finally the flour mix (if it turns out too dry you can add a little vegetable milk).
Spread the dough in 20 Mazarin forms (like cupcake ones but made of foil).
Bake at 400F during 12-14 minutes.
Icing: approx. 2 cups powdered sugar with 3 tablespoons water and 3-4 drops Peppermint essential oil (preferably dōTERRA, which is both edible and therapeutic grade).